Company
What is Grounding like?
Designers, Artists, and Programmers
are all part of a community,
grounded in common values.
It has been 14 years since Grounding Inc. was established as a game development company.In that time, we have created console titles, as well as getting into the smartphone market at the very beginning and developing board games globally. We have also developed VR game apps in addition to successfully crowdfunding a number of projects. It goes without saying that we seek to create interesting, immersive games. Games that deliver new experiences. Building games takes a team of trusted staff, along with technical expertise and groundbreaking ideas - one might say these elements are the foundation - the grounding - of everything we do.        

That is the story of Grounding Inc.
Company Details
Corporate Outline
For the first few years following the founding of Grounding, Inc. the company developed games for consoles made by Nintendo and Microsoft. One of these games was Crimson Dragon, which was the sole launch title for the Xbox One developed in Japan. Getting these projects approved meant pitching our proposals to publishers and getting them to agree to allowing Grounding Inc. to develop these titles.
Then in 2012, the company began to create game content for smartphones, collaborating on the development of For Whom the Alchemist Exists, a top 10-ranked game, which helped cement a reputation as a studio that creates high quality mobile apps. Grounding Inc. is seen as a company that can see a project through to fruition, from the initial proposal all the way through to post-launch management.
Furthermore, the company soon became involved in proposing and developing analog games, including sales and marketing. One of these games, Machi Koro, has been localized into different languages and is on sale in several countries. It is the first Japanese title to be nominated for the French Board Game Awards 2015 as well as the German Board Game Awards 2015.
Currently, the company is engaged in the development of VR content, in addition to creating game content for consoles and smartphones.
- Company name: Grounding Inc.
- Established: September 7, 2007
- Capital: JPY3 million
- Head office address: Kyoei Gofuku-cho Bldg. 4F, 3-11 Gofuku-cho, Naka-ku, Fukuoka
- Business Activities:・Game Development for Console Platforms・Service Provision and Game Development for Mobile Platforms・Developing, Manufacturing and Sales/Marketing of Board Games featuring IP unique to Grounding Inc.
- Employees; 93(as of January 2022)
Tokyo Studio
5F, VORT Suehiro-cho
6-14-7, Sotokanda, Chiyoda-ku,
Tokyo, 〒101-0021
If you are coming by train
2 minute walk from Suehiro-cho Station on Ginza line.
9 minute walk from Akihabara Station on Yamanote line.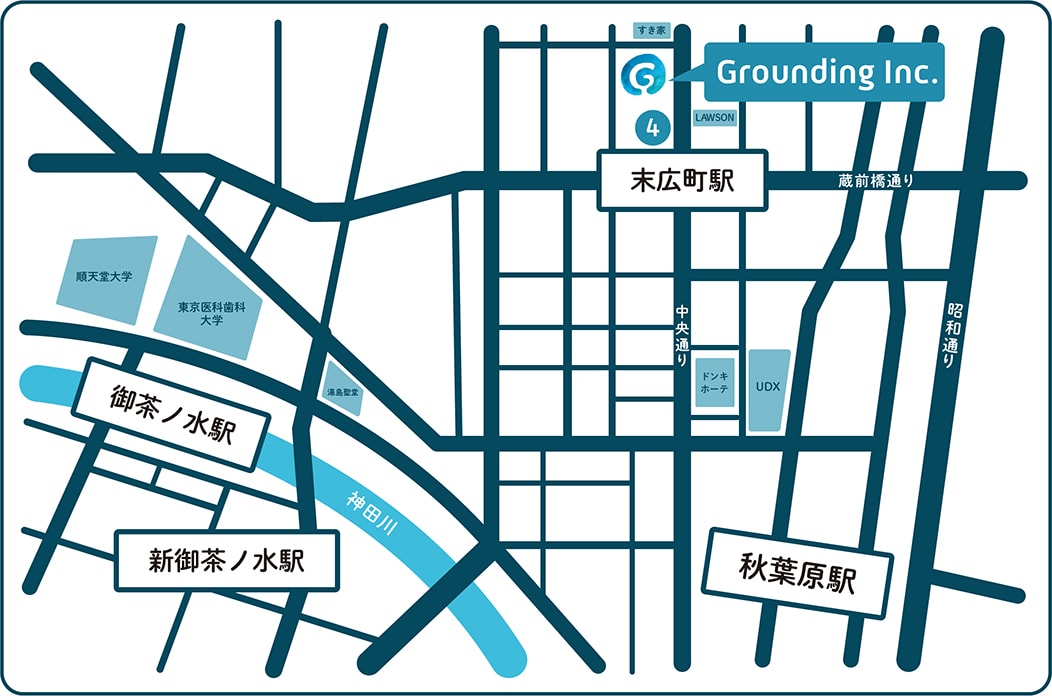 Fukuoka Studio
4F, Kyoeigofukumachi Bldg.
3-11 Nakagofukumachi, Hakata-ku, Fukuoka-city,
Fukuoka 812-0035 Japan
If you are coming by Subway
Take the Fukuoka Municipal Subway to Gofukumachi Station and take Exit 3 (3 mins walk to the Fukuoka Studio)
If you are coming by bus
Take the 100 yen bus service from Hakata Station to Tenjin and alight at the Gofukumachi Stop (opposite the Yamaguchi Bank) (3 mins walk to the Fukuoka Studio)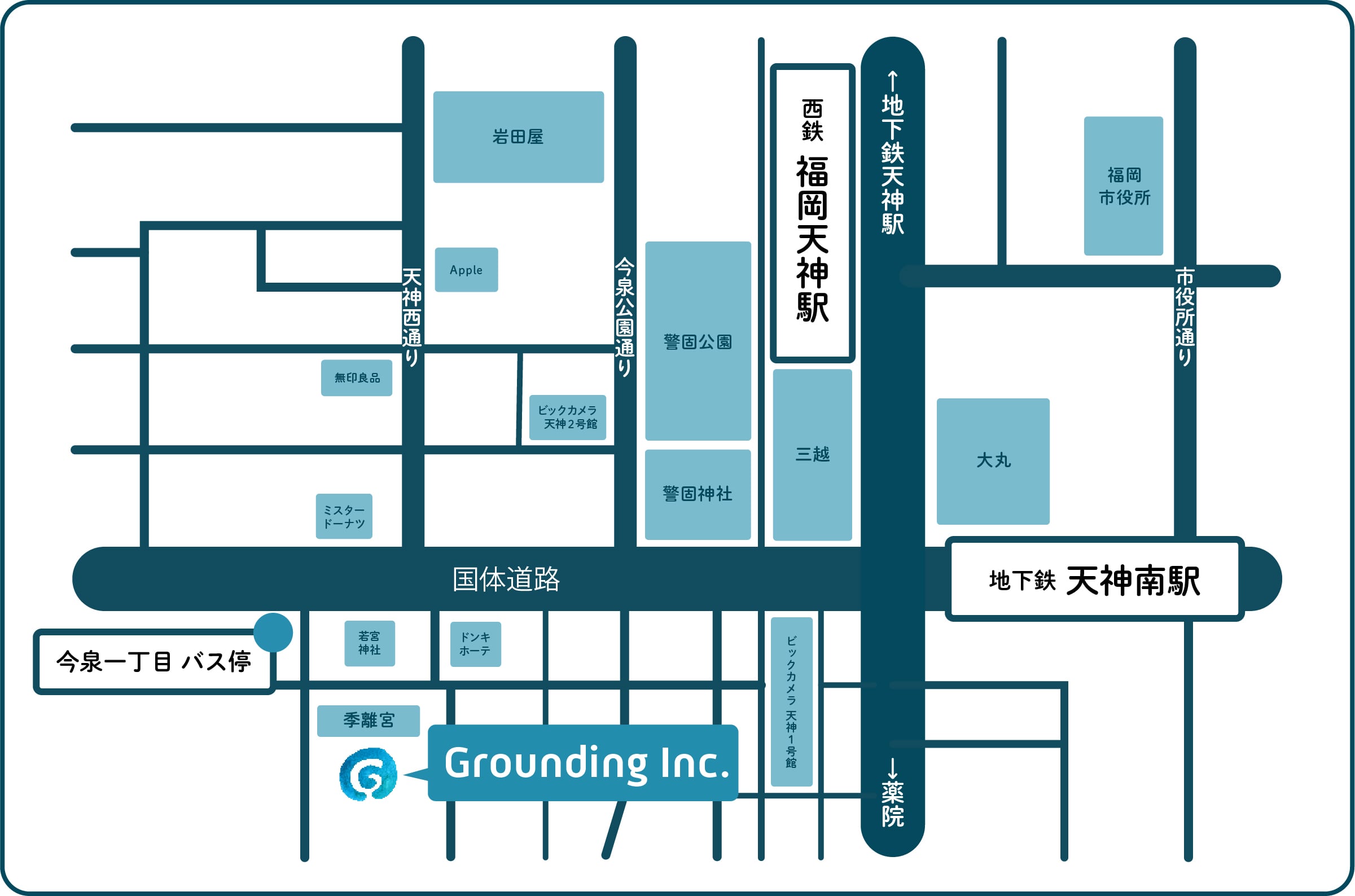 Kyoto Studio
Rm 8050, 8F Life Plaza Nishioji Shijo,
225 Saiin Hira-cho, Ukyo-ku, Kyoto City,
Kyoto Prefecture, 〒615-0022
If you are coming by train
Take the Hankyu Line to Saiin Station (5 mins walk to the Kyoto Studio)
If you are coming by bus
Take the Kyoto city bus service and alight at the Nishioji Gojo Stop (6 mins walk to the Kyoto Studio)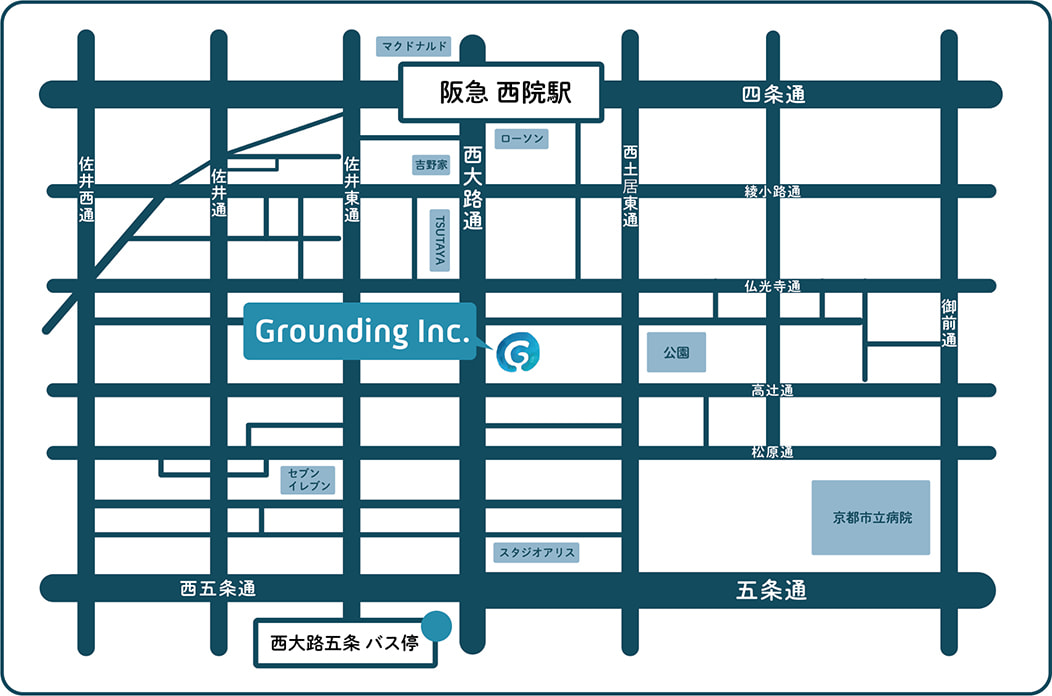 Investors News
IR Information
2020.11.01
A message from the Management Team pertaining to HR.
For more details about this HR update please take a look at the PDF
Link to PDF
IR NEWS